SPOTLIGHT 446
11/04/2014 16:54
Welcome to the Spot Light! If you're yearning for a new dose of psychedelia, space rock, rock'n'roll, garage rock, ambient, soundscapes, electronica, drone, new wave, synth pop and experimental, you've come to the right place!

PSYCHEDELIC/PROGRESSIVE
This 7" features 'Light Years Beyond' b/w 'Ghost Of Me' from the 2014 album 'Sateen'. "They take cultish cues from European acts like The Devil's Blood and Mansion, but strip away the religious iconography to leave behind an earthy psychedelic swirl. The retro-style production, especially one so ably done, is a rarity among American acts, who usually bring such influences to bear with a modern feel, but Electric Citizen sound like old pros on their first outing." ~The Obelisk.
Listen to 'Lightyears Beyond' HERE.
The band was formed in 1976 in Annemasse in France under the name of POST SQUAM, members were 13 to 15 years. They changed their name in 1978 to HOLOCAUSTE and record this unique single early 1979. Mixture of psyche and Heavy with excellent guitar solos make one pillar of its kind in France. The band always plays under another name today! Reissue 300 copies of this rare very hard on Cameleon Records.
Listen to 'Hard Life' HERE.
After the reissue of 45t ANKH Cameleon Records in 2013, this is the album on Vinyl Vidi Vici in collaboration with Sam Play. This LP includes 2 tracks of the single "Les maîtres du temps (Time Masters)" and "islands", remastered, plus the poem "Being in the sun" originally planned but abandoned the project for lack of space, then from the very rare 1974 album "Guitares" Fabrice BATY, titles "NAT 612" "La falaise (the Cliff) " and "Les portes de l'orage" (the doors of the storm)." "Rmanence (Retain)", "The seven trumpets" and "Ankh theme" are unpublished for the first time issued. Heavy-prog, surf-prog, experimental guitars, this album is a lot of work by a great guitarist to finally discover. Gatefold sleeve with yellow vinyl, limited edition 300 copies.
French version of the latest GO release. Comes as a mono double-LP on black vinyl, in a French-translated alternate cover with added insert. Edition of 300. Detroit's wonderful psychedelic garage outfit The Go's lineup once included JACK WHITE. Here are 20 energetic tracks.
Listen to 'Fiesta' HERE.
EDITION ON RED VINYL. This first volume in the '4 Bands Split' series presents four bands that need no future introduction, 'Naam', 'White Hills', 'Black Rainbows' and 'The Flying Eyes', all contributing exclusive tracks to this release. The record is presented as a double-LP in a gatefold sleeve with artwork by Solomacello.
Check out the official album teaser HERE.
The Spacelords came down to planet earth to blow the peoples brains off with their severe Spacerock tunes. This is the fourth album by the southern-German Psychedelic- and Spacerock underground band. After 2 studio-CDs and a live CD-R released by the band, Sulatron is releasing their new album on vinyl! 4 long tracks to blow your mind and send you into far out territories! The 3 guys seriously take you away with their spacey but powerful music! BTW: Marcus is the drummer of Electric Moon as well! First edition: 500 copies on high quality, coloured 180 grams vinyl!
Listen to 'Synapse' HERE.
A truly mind bending compilation of tracks from the elusive Estonian psych-pop cult-group Väntorel. These 14 self-penned tracks were recorded in September 1971, just a few months before they disbanded. Väntorel's music showcased a drugged out style, at times reminding of the most far-out of UK psych-pop groups (f.i. Tomorrow, Blossom Toes), or Brazilians Os Mutantes. It's no surprise that Väntorel was too much an underground act to release records on the country's leading Melodiya label, and the studio tapes got lost in the '70s. A previous compilation of their tracks, with sound taken from second-rate copies, was released on tape and limited CDR in 1997. Both are long out of print now. For this compilation the songs are fully remastered. Väntorel started its career under the name Keldriline Heli, but got into trouble with authorities, so they renamed themselves after a title of their best known song. They were totally unique in the Estonian music scene back then due to their sincere lyrics in Estonian, complex songwriting and psychedelic sound.
A famous Texan singer songwriter Bob McDill's only album produced by himself in 1972. This excellent textbook type Nashville sound recording was made with help of super acts like Ken Lauber, Susan Taylor, Danny Flowers, Mike Utley and Charlie Freeman. First release on CD.
Listen to 'I've Been Thinkin' of You Lately' HERE.
Here it is!! The definitive collection of over 40 great bands from the Chesapeake State!! Featuring many never before heard and unreleased songs from 1965 through 1970. Double CD Jewel Case with a 20-page full colour booklet: DISC ONE: 1) Get Off My Back - The Henchmen 2) Its True - The Looms 3) Please Dont Go - The Second Hand Bitter Sweet 4) Tangerine Guides- The New Diablos 5) The Fugitive - The Dagenites 6) Hey Little Girl - The Marauders 7) All I Want Is My Baby Back - Piece Kor 8) I've Been Fooling Around - The Smacks 9) Been A Long Time - The Koffee Beans 10) Psychedelic Ride - The Ides 11) Letters Of Love-The Creatures 12) I Wish I Could-The Juveniles 13) Shadows-Attic Sounds 14) Little Latin Lupe Lu - The Invaders 15) I Want You All The Time - The Limits 16) Sweet Life - The Urch Perch 17) Cumberland Railroad - Tomorrow's People 18) I Don't Want To Try Again - The Dagenites 19) Savin' All My Love For You - Bob Brady & The Con Chords 20) You Wont Find Me - The Executioners 21) In The World Of Our Own - Cherry Pink Reason 22) Flower Children - Sodom & Gomorrah 23) Gone And Left Me - Mike's Messengers 24) She Still Loves You - The Henchmen 25) Watch Out - Paper Cup 26) Come With Me - The Trespassers 27) Dance, USA! - The Shoremen Total Time: 71:25 DISC TWO: 1) Love - The Bad Boys 2) Everything Would Be Fine - The Fallen Angels 3) I Do - Jay Dee & The Chasers 4) Tiny Little Seeds - The Persuaders 5) All My Life- The Koffee Beans 6) I Was Wrong - Human Freedom And Security 7) J-J (Come Back To Me) The Souls Of Britton 8) I'm Fake - The New Diablos 9) Fools Live Alone - The Lost Tribe 10) Haight Street Dream - Brandi Laine 11) I Can't Wait Till Friday Comes - The Hard Times 12) I Dont Know - The Penmar Stompers 13) Throw Stones - The Stratfords 14) Something For You - The Marauders 15) They Threw Sticks And Stones- The Nunsuch 16) Words Of The Raven - Piece Kor 17) What A Drag It Is - The Patriots 18) I'm Gone Slide - The Dagenites 19) I Can't Believe - The Omegas 20) Dawn - Summers Misfits 21) Land Of Love - The New Diablos 22) Little Heart - The Newports. 23) Carousel Of Dreams - Cherry Pink Reason 24) Shes Bad - The Shoremen 25) Turtle Neck Sweaters - The Verdicts 26) I Need Love - The Mad Hatters 27) Things I See - The Urch Perch Total Time: 75:47
Issue #39 with a cover story on THE END: Bill Wyman's introspective psychedelic protegés. Plus articles like: - THE PEANUT BUTTER CONSPIRACY: It's A Happening Thing with LA's psychedelic folk-rock congregation - BONNIE DOBSON: Walking out in the morning dew with Canada's first lady of folk - THE SOUNDCARRIERS: The kings (and queen) of retro-futurist analog grooves tell all Plus: CHRIS FARLOWE, NYMBUS, EXPLODING GALAXY and much more! Included in this issue: REVERBERATE MAGAZINE featuring the latest sights and sounds from the ever-expanding new wave psych scene. Plus a competition to win a TEAC LP-P1000 - CD/radio/record player.
GARAGE PUNK/ROCK & ROLL
What a sonic masterpiece! This recording brings Lord Rochester even closer to the '50s Chess sound, being a real exhibition of good taste and analogic wisdom. And the songs don't stay behind the production: this EP is a quadruple A-sider. Four original songs of infectious beat, primitive rock'n'roll and life celebration. The Lord (Rochester) keeps spreading the True Word of Bo Diddley, and we say A-M-E-N!
Limited to 500 copies. Hard to find songs compiled from original 78's and 45's. The craziest compilation of music from all over the world!!! This comilation collates a worldwide mixture of painfully obscure crud-a-phonic dance craze platters from the 50's and 60's. A brilliant & bonkers concoction of exotica, teenbeat, and international nonsense novelties. If you need something new to listen to after you've worn out yer Las Vegas Grind and Jungle Exotica records then this is for YOU! This platter will liven up any ole party! Lurch-eriffic teen crazes and totally daffy mix-n-match foreign language tracks that'll make your eyes & ears alike pop just like corn. Long live the University of Vice. Tracks: Side A: 01. Comete / Jimmy's Guitar (Thailand) 02. Twist Dell' Astronauta / Luciano Fineschi (Italy) 03. El Idioma Del Robot / The Gay Crooners (Panama) 04. Space Cowboy / The Launchers (USA) 05. Sigma 7 / Dick Wolfe And The Wolverines (USA) 06. Atom Bomb / Revelators Quartet (USA) 07. Para El Ano Dos Mil / Luis Perez Meza (Mexico) 08. Les Martiens Arrivent / Les Guitars (France). Side B: 01. Marsupilami / Danyel Gerard (France) 02. Manich Dalam / Bentir (Morocco) 03. Koulouri / Trio Joroca (Morocco) 04. Voodoo / The Chippendales (USA) 05. Taboo / Esquire Boys (USA) 06. Rock And Roll Para Ti / Los Murcianos (Puerto Rico) 07. El Shinero De La Main / Miguel Salas (USA) 08. Lao Duang Duen / Johnnys Guitar (Thailand).
Limited CDEP, tribute to a 1960's icon & football genius, George Best.
'BRAINTHROUGH is the band's debut release, an absolutely amazing ORGAN'-DRENCHED album with ten original compositions and one cover (surprisingly an unusual one for a garage rock band). The album sound takes you back to the late '80s-early '90s GARAGE ROCK REVIVAL, the days of bands like THE FUZZTONES, THE CHESTERFIELD KINGS, THE CHEEPSKATES and others. It's obvious that THE STATYCS refuse to follow the tends and trends of nowadays and remain focused on playing the pure garage rock revival style of the '80s. A catchy organ line and a simple guitar riff is enough. This is it. Work done. ROCK'N'ROLL!!!!
INDUSTRIAL/DARK AMBIENT
Limited to 500 copies with embossed frontcover. The Grey Wolves and Genocide Organ have been collaborators for many years. One of the most significant tracks they've worked on together is 'Beyond Hypocrisy'. This 12-inch features four different versions of that track. The Live in Mannheim 2011 version, the original version by The Grey Wolves, a new more classical version and a longer new interpretation of the track called 'Absolute Hypocrisy'. Coming as a 12", one side is 45rpm and one side 33rpm, total playing time about 29 minutes.
Listen to 'Beyond Hypocrisy' HERE.
This album spins within close range of those dark ambient realms that Apoptose became known for since the early 2000s. Songs like 'Meer Der Ruhe' or 'Schnee' still bear this signature. But at the same time they show a new quality of song writing. Both feature the frail singing of a girl who keeps the dusty shadows at bay - enthralling and unknown. On 'Forget Your Face', 'Adrenalin' or 'Ich Verbrenne' Apoptose replaces the reverb charged tracks by songs full of voices and haunting melodies. But beware: all is not as it seems. This LP+CD version comes in an altered design with copper foil blocking and printed inner sleeve. Don't miss out on this one!
Listen to 'Adrenalin' HERE.
Halgrath's second album on Cryo Chamber is a very personal one, where the artist shares her inner struggles of transformation after dramatic events in her life. This dark ambient journey carries not only deep drones, but serene voices and emotional soundscapes as well. Delve deep into the visions of opera vocalist Halgrath's spiritual nightmares, where suffering and madness gets comforted by the calm hand of the dark expanding universe. Halgrath is easiest described as dark ritual ambient. With her hypnotic incantations reverbating through heavy textures the atmosphere is oozing with quality of production. Comes in nice designed 6 page ecopak.
Listen to 'The Whole Path of War and Acceptance' HERE.
Millipede's 'A Mist And A Vapor' demonstrates his mastery of styles, mixing the electronic with the organic in a perfect coexistence of IDM, glitch and dark ambient with a slight world music influence. This album's auditory terrain consists of forceful, slow beat-driven tracks alternating with mesmerizing ambient landscapes that include tightly orchestrated synthesizers and dark industrial pads as well as strong guitar and piano lines. The twelve tracks carry a striking fusion of emotions between curiosity anticipating a virtual expedition, melancholy and an articulately cinematic experience.
'Listen to 'A Mist and a Vapor' HERE.
'Signals I-III' is a series of space ambient works that portrays signals that the protagonist from the albums 2145 and 2146 finds on his journey to find out what happened to humanity after waking up from hibernation deep sleep to an empty world void of human life. As such this is an optional look into what happens in the periphery of the main project. Sabled Sun is a post-apocalyptic dark ambient sideproject by Simon Heath (Atrium Carceri). Comes in nice designed 6 page ecopak.
Listen to 'Signals I-III' HERE.
EXPERIMENTAL/SOUND ART
A superb 4LP set including a booklet. Alien Brains is a notable name in the development of noise/industrial/drone music. These four LP's focus on Alien Brain's ground breaking work from the period 1979-1985. Includes the 'Menial Disorders' cassette from 1979, the 'Der Blaunk Tapes' cassettes from 1980/1981, the 'Live Last Chance Centre, Shepherds Bush, London 18/11/83', the 'WI HUT Recording' from 1982, extracts from 'Blatantly Nihilist' from 1980, 'British Interiors' from 1980, 'Alien Brains IV - Natural Advantages' from 1980 and 'Nigel Jacklin Solo' from 1981, 'Live School Art Room 1982', 'Live Tower (Morwick)' from 1982 and the 'Verdenskang' cassette from 1984/1985.
A terrific 5LP set with a booklet. PASCAL COMELADE (1955) is a French-Catalan artist active in the field of experimental and electronic music. He has collaborated with many singers and musicians in various genres, including Robert Wyatt, Dani, Faust, Christophe Miossec, Toti Soler, Jac Berrocal, Pierre Bastien and P.J. Harvey to mention just a few. The five LP's contain his output from the period 1973-1983. Includes 'Fluence' (1974/75), 'Paralelo' (1980), 'Sentimientos' (1982), 'Sequences Païennes' 7" (1979), 'Ready-Made' (1980), Irregualr Organ/Musique Par Correspondance' cassette (1983), Bel Canto Orquestra En Concert, 28th Of October 1983' cassette and 'Slow Musics' cassette (1981).
Angus MacLise, age 27, New York, November 1965, leaves the Velvet Underground for far-away lands. Drone-based experiments (notably with Tony Conrad, extremely present on the album, and John Cale), and purely electronic compositions - a path (almost) nobody knew MacLise had explored. Miraculously salvaged by Gerald Malanga, these archives provided a new perspective on the artist's whole body of work and expanded considerably his artistic palette. And so we are now able to draw a whole record's worth from MacLise's early electronic music. Tracks: Side 1: 01 Electronic Mix for 'Expanded Cinema'. Side 2: 01 Tunnel Music #1 02 Tunnel Music #2 03 Tunnel Music #3 04 Trance #1 05 Two Speed Trance 06 Four Speed Trance.
'Muslimgauze: Chasing The Shadow Of Bryn Jones 1983-1988' is a DELUXE 10LP ANTHOLOGY of Muslimgauze's early musical output, accompanied by a 208-page book biography, a poster and a CD. The ten vinyl platters contain all of Muslimgauze's recordings from the years 1983-1988. This is a very limited edition released for the truly devoted Muslimgauze admirer. Includes a 10LP booklike folder set. The 10 albums feature the 'Opaque' cassette from 1983, the 'Kabul' LP from 1983, the 'Hunting With An Aerial Eye' 12" from 1983, the 'Hammer And Sickle' 7" from 1984, the 'Buddhist On Fire' LP from 1984, the 'Blinded Horses' LP from 1985, the 'Flajelata' LP from 1986, the 'Hajj' LP from 1986, the 'Jazirat-Ul-Arab' LP from 1987, the 'Abu Nidal' LP from 1987 and the 'The Rape Of Palestine' LP from 1988. Also includes the book 'Chasing The Shadow Of Bryn Jones' by Ibrahim Kider and the 'A Putrid Oasis' 15-track CD compilation with tracks from 1987-2003.
Check out the video for 'Chasing the Shadow of Bryn Jones' HERE.
'Music And Words 2' is the second installment in an ongoing series of archival documents of Bohman's early work. As is the case with the first volume, this CD is divided into two separate segments of his work. Adam is probably best known as an improviser, but the music here isn't all that much improvised. On this CD the musical sections consist of idiosyncratic lo-fi songs alongside short collage pieces and other experiments, recorded on stereo and 4-track cassette recorders. Most of these pieces date from the early '80s, but the earliest recording is from 1977. The spoken word sections on this CD are centred on excerpts from 3 talking tapes - a trip to Southend, a concert series in Wiesbaden and a day in the life, in London. Anyone who has known Adam for any length of time will know that he frequently records his observations to a small portable cassette recorder. These are often recorded for friends and music contacts from all over the world. As with the musical contibutions, all these cassettes exist in very small quantities, often they are editions of only one copy. Although there is an obvious difference in these two types of recorded material, there exists a light and humouous common thread that runs through many of the 28 tracks. This is the third solo release from Bohman on Paradigm Discs. He also appears on all 3 of the Morphogenesis CDs, as well as contributing to the first ever Paradigm release, 'Variations', a compilation of London based artists, from 1995.
METAL/STONER/HARDROCK
425gsm heavy cardboard cover, lyric sheet, black vinyl.
Listen to 'Frost Giants' HERE.
For the very first time on vinyl in a limited edition of 350 hand-numbered copies in heavy black vinyl and printed inner sleeve! Officially licensed by Majestic Entertainment. The sixth release for this amazing band. The vinyl saga goes on! What's next!?
ROCK/POP/WAVE
With 'Cerf Biche et Faon' (Stag, Deer and Fawn), Julien Gasc guides and plants us in the forest of his emotions, playing with his ethereal voice and lyrical instrumentations, against the gentle crackle of lo-fi cigarettes. This is his first solo album after many rich collaborations (including Aquaserge, Stereolab, April March, Katerine, BERTRAND BURGALAT) and Julien Gasc more intimately reveals here the "diamond" he harbours, having it vibrate on the shellac. These are resolutely pop songs for the most part, or fueled by his adolescent energy, his artistic and technical maturity does nothng to smother the fresh spontaneity he reinvents in the moment during recording.
Watch 'La Boucle' live HERE.
'Early Works 1982-1986'. Highly regarded early '80s synth sounds! In 1985 they released a fantastic 12-song tape on Unlikely Records called 'Operating On Specific Cues'. That material forms the foundation of this 25-track double-LP compilation. While the tape is still rather unknown to fans of synth music, the three 7"s released from 1985-87 (on Alain Neffe's Insane Music as well as Possum and R&D Records), with the outstanding tracks 'Spaceman Bassman', 'Africa' and 'Fragile Thing', are better known to the minimal synth/wave community and collectors of 80's wave and minimal synth vinyl. After Frank of VOD found a 7 song demo tape from 1982 and listened to the beautiful 12 song tape from 1985 he sent a request for a release to Deni. She checked her archive for more hidden treasures and found several more previously unreleased and superb synth-pop-tunes well worth being released and presented to a bigger audience of listeners and synth enthusiasts.
An impressive 5LP release with an informative booklet. RATIONAL YOUTH was a Canadian new wave/synth-pop band, primarily active between 1981 and 1986. The 5 LP's offer recordings from the years 1981-1984: 'Cold War Night Life', 'Yul Records 1981-1983', 'Demos, Obscure, Live and Rare 1981-1983', 'Live in Winnipeg 1983' and 'The Capitol Years 1983/84'.
Listen to 'City of Night' HERE.
The finest German minimal/synth wave from the early '80s Neue Deutsche Welle was created by Jürgen Schweighart, a.k.a. V2 SCHNEIDER. These three LP's concentrate on his much sought after tape releases from the years 1981-'85, as well as on previously unreleased material from the same period. None of the tracks were remixed or edited and therefore kept in their authentic original and charming form. Includes 'V2 Schneider 1' (1981), 'Body Politix' (1982), 'Blues' (1984), 'Abgrund Der Gefühle' (1984), 'Hong Kong Movements' (1985)' plus demos and previously unreleased tracks.
This 7LP set (plus an extra 7-inch) forms the ultimate 'Anthology Of Scottish Minimal Synth', based on the work of electronic mastermind Alistair Robertson and his early '80s solo or band-projects The Written Text, DC3, Al Robertson, The Klingons, 100% Man Made Fibre and Inter City Static. Also included are some of the results of his collaborations with other Scottish musicians including Mario D'Agostino and Richie Turnbull and their projects Dick Tracy and Final Program. Includes: Klingons - Beamed Down By Starship Enterprise (1980), Klingons - Analog Digital (1981), Dick Tracy - Wrist Radio Demo (previously unreleased), Al Robertson - The Axe Gets Axed (1981), The DC3 - Coherent Noise (1979/80), Final Program - Demos and Compilation Tracks from 1981/82, Inter City Static - Love Among The Mannequins (1981) and 3 previously unreleased albums by 100% Mad Made Fibre.
Bobby Doyle's 2nd and last album released in 1973. Both of 'Nine Songs' and 'The Bobby Doyle Introductory Offer' received critical acclaim and these two albums are must for R&B and Swamp Rock fans. First release on CD!
Bobby Doyle's 1st solo album released in 1968. Both of 'Nine Songs' and 'The Bobby Doyle Introductory Offer' received critical acclaim and these two albums are must for R&B and Swamp Rock fans. First release on CD!
Listen to 'So Much Love' HERE.
This talented but obscured pop rock duo's only album on Tiger Lily has been demanded by collectors for years. Now it is finally available on CD for the first time. The album reminds of super acts like Big Star and Todd Rundgren's Utopia.
D'N'B/BREAKCORE/DUBSTEP
'Drown' reveals influences from IDM, dubstep and experimental music. Defrag's classical background can also be heard, as strings, piano, classic analogue synths and software processing all provide the music with a more cinematic progression.
Check out the 'Drown' teaser HERE.
SHOWS
A late Night With Laika: Adrian Utley's (Portishead) Guitar Orchestra + Jandek + Oneohtrix Point Never + André Stordeur & F. du Busquiel + Orphan Fairytale
19/04 AB, Brussel
Black Leather Jesus (Steinklang), Con-Dom (Tesco Organisation / Old Europa Café) e.a.
18/5 OCCII Amsterdam
19/5 The Pit's Kortrijk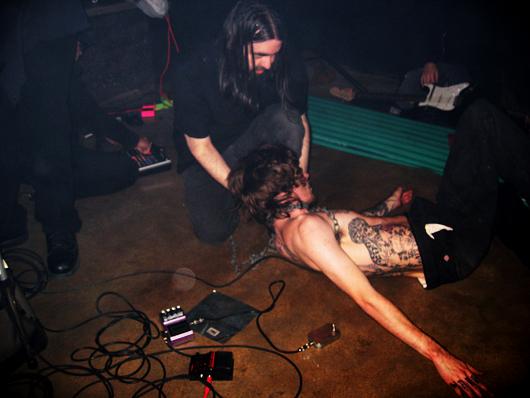 Bob Log III (Voodoo Rhythm)
3/6 Patronaat Haarlem
The Cosmic Dead (Sound of Cobra / Evil Hoodoo)
29/06 OCCII Amsterdam
5/7 Patronaat Haarlem
Blog
Previous editions:
04/04/2014 16:44 SPOTLIGHT 445
01/04/2014 13:30 SPOTLIGHT 444
24/03/2014 16:21 SPOTLIGHT 443
17/03/2014 17:39 SPOTLIGHT 442
10/03/2014 12:58 SPOTLIGHT 441
27/02/2014 17:23 SPOTLIGHT 440
21/02/2014 16:27 SPOTLIGHT 439
17/02/2014 15:56 SPOTLIGHT 438
08/02/2014 18:04 SPOTLIGHT 437
03/02/2014 14:58 SPOTLIGHT 436
27/01/2014 12:19 SPOTLIGHT 435
17/01/2014 17:53 SPOTLIGHT 434
09/01/2014 16:24 SPOTLIGHT 433
20/12/2013 11:28 SPOTLIGHT 432
13/12/2013 19:10 SPOTLIGHT 431
06/12/2013 14:59 SPOTLIGHT 430
29/11/2013 18:15 SPOTLIGHT 429
22/11/2013 11:37 SPOTLIGHT 428
16/11/2013 13:28 SPOTLIGHT 427
08/11/2013 11:28 SPOTLIGHT 426