SPOTLIGHT 10
15/03/2021 14:13
Welcome to the Spot Light. Check out the latest psychedelic, cosmic, prog, freakbeat, folk, kraut, experimental, jazz, drone, mystical, and avant-garde sounds! https://www.shinybeast.nl/blog
PSYCHEDELIC/PROGRESSIVE/FOLK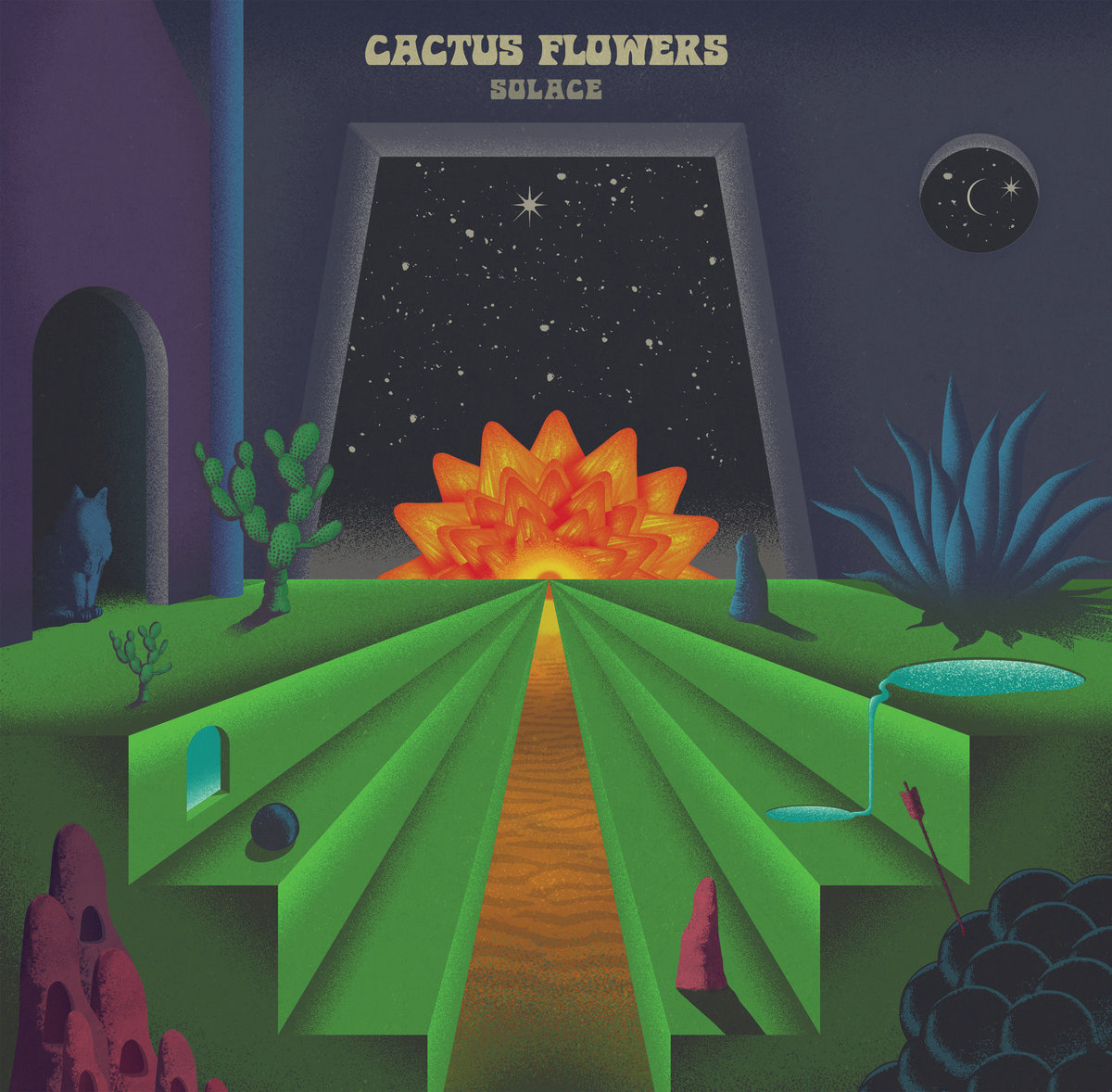 'Solace' shines on with a sultry swagger of serrated riffs, blooming with aural grit and cosmic fuzz. Hard-edged bluesy psych rock. Edition of 250 copies.
Wendy Martinez, vocalist in the psych girl-group Gloria, is a Lyon-based songstress, whose electric pop songs transport us to a hypnotic realm through the melodious flow of her intimate, surreal French lyrics. The songs on this 6-track 10" have been inspired by rock and pop from the '70s and '80s and French greats such as Gainsbourg, Fontaine, Ferré, Bashung and Vassiliu.
Out of the Phillipines this is a psychedelic, progressive and hard rock instrumental group which has made this incredible album. For fans of Bevis Frond, Guru Guru, Hawkwind, Can and any modern guitar psych private pressing, this is pretty much essential. This is their first full vinyl release after a few CDs as well as acetate only albums which have been released to great acclaim over the past few years. With shades of Savage Resurrection, Zappa, Blue Cheer but also with a few surf and jazz influences this is a really interesting and excellent album. Limited to 200 copies on swamp green vinyl.
A highly regarded 1968 psych-blues debut-album, with flashes of jazz, by a band from San Francisco gets reissued on vinyl. This edition comes with reproduced artwork and an insert.
This is the first official re-release on vinyl under licensed courtesy of BMG Rights Management, UK, remastered from an original master copy out of the vaults of BMG. The album was originally released in 1971 on Transatlantic, produced by Peter Bardens (Camel). Marsipulami's sombre and slightly spooky flute-laden music, often evoking mythology, certainly was groundbreaking stuff and should've caught many more "underground public" ears. Side one: 'Prelude To The Arena' starts quite violently with Sabbath style dramatic chords and the theatrical exclamations of vocalist Fred Hasson. This leads to alternating calm and rock sections with organ, guitar, flute. Bass and some furious drumming are pretty stellar throughout the jamming. Quite a nice opener. 'Peace Of Rome' starts with a back and forth between vocalizations and flute followed by further lovely flute playing and another fluent rock section with organ. 'The Arena' begins with more dramatic narration over Hammond blasts and then some extended organ over subdued drumming, bass, and female background vocals. The flutes come in and the sound is quite eerie and a bit exotic. In the middle there is a great section of piano, flute and whispered female vocal, the calm before the chaos to follow. Starting at 9:20 is a section that sounds quite Camel-ish, one wonders if Barden's picked up some subconscious influence here although most of Marsupilami is much more captivating than Camel. The latter half of this song features again some truly fine prog rock moments, great guitar work, mellotron, vocals, and overall memorable textures. Side 2 begins with 'Time Shadows', which starts with echoed vocal and organ, then acoustic guitar and flute join and then harmonica and vocal. Soon a brisk bass and jazzy drum beat grabs the weirdness and pulls it along, then some piano joins in. About half way through we get the saxophone and electric guitar trading licks with an urgent flute and rhythm section behind. The last minute gets pretty crazy with the sax and guitar laying down some very heavy rock. 'Spring' is a great closer and another good hippie rock moment. After yet another insanely dramatic beginning the track suddenly jumps into the most delightfully melodic passage of flute, piano, and gentle Camel like rhythm. That stops and we move into a vocal weirdness section with cathartic wailing to edgy strings and keys, then a short e-guitar solo - the lead guitar work is pretty fine. After several minutes it slips back to the Camel-like melody to provide a pleasing and memorable ending. The organ work gives a bit of a early '70s psych feel. 'Arena' is a concept album with songs run in the 7-11 minutes range. Earthy, powerful and intriguing, Marsupilami was one of the first true progressive rock bands. This is a must for all lovers of early British prog rock. The album comes with 6-sided cover-sized insert sheet with comprehensive story by singer Fred Hasson and additional Glastonbury story by organ player Leary Hasson, rare and unseen photos and lyrics. Don't miss it!
This is the first official re-release on vinyl under licensed courtesy of BMG Rights Management, UK, remastered from an original master copy out of the vaults of BMG. The album was originally released in 1970 on Transatlantic. Marsupilami is one of those early '70s groups that should've emerged but didn't, like Audience, Gravy Train, Gnidrolog and a few more. This south-west England sextet, built around the Hasson brothers Fred (vocals) and Leary (keyboards) and the latter's girlfriend Jessica Clarke (flute and vocals), released two superb albums that have gone way too long without being noticed. Marsipulami's sombre and slightly spooky flute-laden music, often evoking mythology, certainly was groundbreaking stuff and should've caught many more "underground public" ears, but the offer was plentiful in those times and the places in the sunshine a bit scarce. The opening 'Dorian Deep' is often sombre and brooding, heavy, organ-driven, with the fuzz guitar and the flute adding more drama, Fouracre's drumming being very strong, this leaves Hicks' bass playing often the anchoring role, but does it brilliantly. 'Born To Be Free' starts off as languid flute-driven piece before suddenly exploding into another frenzied jam, although the Leary Hasson organ solo gives this one a jazz tinge... that is until the harmonica solo comes in! Finally the flute reclaims the piece and the listener is thrown back to that now seemingly distant mellow beginning. The imagery in 'And The Eagle Chased The Dove To Its Ruin' drips with the rhythmic energy of classic psychedelia and is probably the listeners' declared favourite track. Side two starts with 'Ab Intio Ad Finem (The Opera)' which runs for nearly 11 minutes. It begins with a musical box kind of sound before a march gradually takes over. Some churchy organ creeps in and after 2 minutes, an excellent organ/tribal drum jam ensues and after a minute or two, some delightful flute chips in. It then becomes a guitar freak out, before flute leads the band back into a pastoral section, before everything takes off again on a wild jazzy jam at around the 7 minute mark, really great prog stuff. 'Facilis Descencus Averni' is a different beast altogether, perhaps even more jarring than the most manic moments of 'Dorian Deep' and a another high-powered jam, with a drastic switch to a meditative flute passage... before the great vocal part restates itself. There is a vibe that reminds occasionally of Quintessence and at other times of Iron Butterfly, but Marsupilami has more to offer. Earthy, powerful and intriguing, Marsupilami was one of the first true progressive rock bands. This is a must for all lovers of early British prog rock. The album comes with 6-sided cover-sized insert sheet with comprehensive story by singer Fred Hasson and additional Glastonbury story by organ player Leary Hasson, rare and unseen photos and lyrics. Don't miss it!
This fifth album by Italian band Muffx was recorded live in August 2020. An instrumental album with a vintage sound and influences from prog, psych, jazz rock and experimentalism, 'Confini' is the second chapter of the 'Blades' trilogy, following 2017's 'L'Ora Di Tutti'.
The work of a longstanding club act, this British underground folk classic was first issued in August 1969. Now it gets reissued on vinyl with reproduced gatefold artwork and two postcard inserts reproducing promotional material from the original date of release.
Smote is a solo project from Newcastle upon Tyne based Daniel Foggin. Following on from two EPs (also released as part of the short run Weird Beard Tapes series) and two collaborative cassettes since Smote's birth in April 2020. Spanning transcendental psych-folk to crushing drone, 'Bodkin' conjures images of bleak medieval landscapes and cavernous dungeons. Taking heavy influence from both Scandinavian psych rock and traditional instrumentation, 'Bodkin' represents an escape from modern living and offers the listener a heavy journey into the ether.
Originally released in 2002 on Double Agent Records, 'Third Wave' heralded the return of The Telescopes after a 10 year hiatus. With Lawrie's innovative experimentation of computer technology (contemporary at the time) amongst other influences outside of the formal music studio environment, the consequence is an album exquisitely divergent from its predecessors. 19 years later in 2021, Weisskalt Records are delighted to present the long awaited and oft requested 'Third Wave' reissue featuring new album art, another testament to its long abiding resonance and relevance. To this day, The Telescopes remain an enigmatic entity, continually pushing the boundaries of sonic possibility. "Third Wave saw the iconic space rock of The Telescopes revived for a third studio album in 2002. The aptly titled 'Third Wave' embraced ambience and texture to create a sound world that was simultaneously becalming and disorientating. The album marks The Telescopes as a house of many rooms, pushing the boundaries of sonic possibilities. Full-on head music with a hallucinogenic agenda." ~Norman Records. Limited to 250 copies. All copies come on different patterns coloured vinyl (randomly inserted, hence unique). randomly inserted. Australian import.
Pedro Pestana (Tren Go! Sound System) and Sidney Yendis (Ornamental) join forces to bring us this trip into another dimension. In the wise words of DFR's Tony... Who loves NIN, British Sea Power, Moon Duo, Hey Colossus and Public Service Broadcasting? You do? Us too. Which means we also love this release. That's not to say it doesn't have its own expertly crafted sound though - effects laden surf guitar, optimistic bass lines, trance inducing drums, menacing atmosphere and beautiful melodies abound in this meritorious album. Loop the loop on board this TG!SS // Ornamental locomotive for the first time on vinyl!
GARAGE/BEAT/SURF/ROCK'N'ROLL
The A-side of this 7" features 'Nosferatu Seduction' by The Ace and 'Melody Delight' by Jonny Magus & The Bursting Bubbles is the B-side. Jonny Magus is a member of The Ace and The Bursting Bubbles is his solo project. If you like garagey bubblegum powerpop explosion buy this single! First release on the Irish Gobshite label.
Two superb slices of fuzz and jangle induced garage punk, delivered by renegade English teen-beat combo The Higher State!
Mitch Polzak & The Royal Deuces were founded in California in 1999, and have been entertaining audiences worldwide with their original sound and show ever since. The three-piece band, fronted by Polzak on guitar, vocals, and five string banjo play a wide representation of American roots music from rockabilly to honky tonk. This 10" contains seven tracks Mitch recorded with the Spanish band The Kaw-Ligas, while he was on tour in Europe.
POP/ROCK/WAVE/NOISE
Altar De Fey originated in San Francisco in the early 1980's as part of the emerging musical form that would come to be known as deathrock. Out of the Zeitgeist flash of '70s punkrock the new sound took the darkest elements of the counter culture into ever deeper, gloomier and more mature territory. Performing at legendary San Francisco venues Mabuhay Gardens, Graffiti, The Nightbreak and the rest billed with Christian Death, 45 Grave, and all the fellow architects of West Coast post punk. The original incarnation passed through a rotating cast of characters centered strongly by the vision and experimental guitar of founding member Kent Cates. Eschewing the conventional chord progression/solo form entirely Cates's guitar spins strands of melody and rhythm, tone and texture in a style that to this day is all his own. The mood was perfected with the innovative tribal drumming of Aleph Kali and Butch Mason's haunted confrontational vocals. Though the band had a strong base of support, no original recordings were ever released and the young members carried on into new musical endeavors. By 1988 ADF disbanded. Years upon years passed yet the name was never completely forgotten. As goth punk culture persisted, grew and developed over time the band began to take on a kind of legendary hue among fans in the know; The lost mysterious phenomenon of Altar De Fey. There was a kind of poetry to it. Finally in 2011, when asked if they would play a reunion for a festival in San Francisco Kent and Aleph surprised everyone by answering yes. Reforming originally as a 2 piece with a drum machine Kent on guitar and Aleph on vocals to an enthusiastic reception, the duo enjoyed it so much they decided to continue the momentum and quickly added Skot Brown on bass, Aleph switched over to live drums, and Jake Hout was added on vocals. The new line up debuted in April of 2012 and has continued regularly performing songs from the original '80s catalogue and steadily adding new material ever since. A new generation of underground deathrock music is growing across the world, in closer, more direct communication than ever before, and interest in the band has quickly escalated. This unique compilation brings you 11 original ADF songs recorded between 1984-1986 (demos, rehearsal records, live records). If you are into classic Christian Death, 45 Grave, Kommunity FK, Burning Image etc. grab this gem now before it's too late!
'Pure Donzin' is the debut solo offering by Amsterdam-based Donald "Donny" Madjid - also known for his involvement in The Mauskovic Dance Band. Whilst many of his local peers tend to turn to sounds further from home for inspiration, Madjid felt drawn to honour the literary and musical tradition of The Netherlands, following in the footsteps of classic and lesser known Dutch troubadours such as Ramses Shaffy (a cover of 'Laat Me' features on the album) and Ronald Langestraat. Don drew inspiration from bard-like storytelling and for the first time started writing in his native tongue, craftily forging lyrics that his rich tenor voice delivers with a sincerity that translates regardless of whether or not you understand Dutch. This intimacy is balanced evenly with synth and drum machine grooves, recalling Dutch new wave legends Doe Maar - merging ear worm pop hooks and infectious danceable beats to these otherwise pensive ballads.
Instead of leaving us quietly ending 2008 the humppa polka party rockers from Finland decided to release a brand new album. Citing from the classics, pop/rock history, Finnish folk and metal they blend it all into their unique brand of music. Limited pressing on white vinyl 2LP set. Includes the EP 'Ukki, Mitä Oli Jenkka'.
Limited edition of 666 copies on yellow vinyl. Comes in a gatefold sleeve and includes insert.
PUNK/HARDCORE
Cleveland power-pop punk trio Beatnik Termites was another group of Ramones fanatics that merged a heavy Ramones influence with a love of surf rock; their caustic pop melodies and ironic, stinging lyrics turning the soft underbelly of pop music on its head, yielding a sound that had tinges of innocence, beneath a knowing, thrash-rock wink. Front man Pat Kim (AKA Pat Termite) started the band back in 1987 with drummer Reggie Silvestri and bassist Brian McCafferty, the group was reputedly a favourite of Nirvana's Kurt Cobain according to his diaries. This is a limited reissue of their hyper rare debut 6 tracks 12", whose original copies are impossibile to find for decent prices online. All Ramones maniacs now can fill that hole in their collection thanks to the Hey Suburbia label. Limited to 300 copies on yellow vinyl with fully remastered sound.
Cult Japanese power-pop/punk band Fifi and the Mach III was initiated in the early 1980s in the southern port town of Kitakyushu by childhood sweethearts Fifi and Nolly, Ramones fans that loved The Stooges and The Pistols. When guitarist Tsukasa joined, Fifi dropped out to raise a baby, but re-joined in 1989, leading to their signing to garage rock label 1+2 Records. The acclaimed debut CD, 'Attack The Zombies' -here issued on vinyl for the first time- had a couple of Pistols covers and a cut of The Kinks' 'I Need You,' as well as unique originals like 'Dog Of The Trend' and 'Raw Power Queen,' which hinted at their influences, yet yielded a distinctive sound. Limited to 500 copies on green vinyl with poster and 4 bonus tracks.
The sensational Italian pop-punk quartet Senzabenza will forever be associated with The Ramones, having opened for them on every Italian tour undertaken by the legendary New York group during the 1990s, the Italians eventually placing Joey Ramone in their producer's chair. Formed in 1989 in Latina, a small town that lies a short distance southeast of Rome, the group termed their music "Flower Punk," indicating a sound somewhere between their Ramones obsession and the non-thrash tempos of surf rock, along with peripheral links to the Italian variant of the 'beat' music of the mid-'60s, as well as hints of ska and the excesses of acid rock. As with many underground acts of the era, a demo sparked the initial interest that brought them onto the newly formed McGuffin label for debut set 'Peryzoma,' with front man Nando Ferdinandi joined by guitarist Sebi Filigi, bassist Fabio Furlan, and drummer Max Bergo. One of the lost treasures of Euro pop punk, it was about time that their groundbreaking debut LP 'Peryzoma' would get the deluxe-reissue treatment. Comes on pink vinyl with fully remastered sound, 2 bonus tracks, a double sided insert and a poster.
INDUSTRIAL/EXPERIMENTAL/NOISE/NEOFOLK/GOTHIC
'INCIDENTAL MUSICS VOLUME I' - Old-school industrial live improvisation with overdubs on 4 track portastudio. Recorded at Black Prince Studio, Coventry, England. 1982. Influenced by classic zombie films, 'This Death House' lends truth to that rumor by delivering forty-six minutes of blackened paranoia-inducing ambiance. Split into two sprawling pieces, 'This Death House' conjures the grim, unsettling atmospheres of such films like 'The Last Man On Earth' and the original 'Night Of The Living Dead' and portrays them into musical form. Step inside this nightmare. Remastered by Martin Bowes at the Cage, Coventry, England 2020. These recordings were originally issued on cassette on Adventures In Reality in September 1982.
Rare recordings of beat/cut-up writers and artists William S. Burroughs and Brion Gysin. Comprises the complete recording of Burroughs reading live in Liverpool in 1982, plus performances by Gysin of a selection of his permutated poems, as well as home recordings made by the pair in Paris in 1970. All recordings are taken from original tapes in the British Library collection. Officially licensed from the British Library, The Estate of William S. Burroughs, and The Estate of Brion Gysin.
First time ever official reissue on vinyl of the original album from 1991. 180 gram audiophile vinyl LP with insert.
BLUES/COUNTRY/OLDIES
One of the biggest steps in Waylon Jennings' career was the opening performance at J.D.'s. There he presented his mixture of country, rock, blues and modern sounds. The live recordings were released then as a private pressing. The album became a very sought after item and it has now been reissued! Comes on 180 gram vinyl in a heavy cardboard sleeve and includes poster.
ELECTRONIC MUSIC/AMBIENT/D'N'B/TRIPHOP
This release is the first solo effort by Simon Henner under the French 79 moniker. Hailing from Marseilles, the man is a producer (Kid Francescoli, Martin Mey), singer, guitarist (Husbands, Nasser), remixer (Black Devil Disco Club, NZCA/Lines, Les Gordon, Field Music) and composer for films and commercials. 'Olympic' is a tour de force from start to finish, with a melodic touch. Tracks range from dancefloor bombs to dreamy abstraction and modern anthems, taking the listener on a vivid journey through an intense range of senses and emotions.
SOUNDTRACKS/LOUNGE/CULT ETC
The Stoffige Vingers (Dusty Fingers) crew returns with a 10" EP full of musical gems from Belgium and Holland, all sung in Dutch. Rare as rocking horseshit, separate purchases would burn a three figure number in your wallet, but they are presented here for a fair price with premium sound quality. Starting off with a hard to find cover of Sade's 'Smooth Operator' to get the party started; moving on to Flemish rock'n'roll by Joske Harry's; a couple of years ago another tune by him was reissued by Radio Martiko Records. All's well that ends well on side A with the politically incorrect ballad 'Darling, I've Contracted AIDS' to clear the floor. Flip over on the Dutch side for more oddball psychedelica; you couldn't make up the opera-like 'L.S.D.' from the 1967 hippie musical 'The Stunt' if you wanted to, but it does exist; midway through we have teenage no-wave outfit Trio Bakyba with saxy breakbeat funk courtesy of a radioshow presented by 2ManyDJ father Zaki Dewaele. Closing off with a jazzy children's song by Sesame Street producer Ton Hasebos that was tucked away on a forgotten 7" only the real cratediggers know about. SIDE 1: 1. Anne Mie Gils - Goed Om Te Weten 2. Joske Harry's - Breek Het Kot Af 3. Marco Reynders - Liefste, Ik Heb Aids SIDE 2: 1. Babs, Marina & De Hippe Vogels - L.S.D. 2. Trio Bakyba - Disco 3. Ton Hasebos - Liedje Voor Sint Nicolaas
More groovy oddities from the Lowlands as the Stoffige Vingers (Dusty Fingers) label presents a 10" curated by the Roots Dynamite crew taking a break from their reggae soundsystem duties. Kicking off with the rare as hen's teeth Serge Gainsbourg cover 'De Modepop' to get your retro party started. Equally scarce is the politically incorrect 'Abortus' seven inch by psych-beat combo The Fellows, as all unsold copies were destroyed by their record company. Monja, the Belgian Mrs. Miller, couldn't hold a tune if her life depended on it but that didn't stop her releasing incredibly strange music, a firm favourite among record collectors. Flip over for Rita Hovink's 't Is Voorbij', originally a Leiber & Stoller production that was a minor hit on Dutch pirate radio. Bobbejaan Schoepen performed vaudeville pop on the Ed Sullivan show and ran a Disneyland-type amusement park where he performed cowboy themed songs like the featured 'Wah! Wah!'. More bang for your buck as The Dukes tackle the Australian classic 'Friday On My Mind' and we're closing off with the erotic voice of Joe Berluck, the first DJ to travel (10 miles) to his gig by airplane in 1965. SIDE 1: 1. Marijke Merckens - De Modepop 2. The Fellows - Abortus 3. Monja - Mijn Ouderhuis 4. Rita Hovink - 't Is Voorbij SIDE 2: 1. Bobbejaan Schoepen - Wah! Wah! 2. The Dukes - Lekker Stappen In 't Weekend 3. Joe Berluck - Ik Ben Een Disc Jockey
Blog
Previous editions:
02/08/2021 18:25 SPOTLIGHT 30
26/07/2021 10:38 SPOTLIGHT 29
16/07/2021 15:10 SPOTLIGHT 28
12/07/2021 10:09 SPOTLIGHT 27
05/07/2021 10:14 SPOTLIGHT 26
28/06/2021 08:24 SPOTLIGHT 25
22/06/2021 08:18 SPOTLIGHT 24
14/06/2021 14:05 SPOTLIGHT 23
07/06/2021 15:42 SPOTLIGHT 22
01/06/2021 06:36 SPOTLIGHT 21
24/05/2021 09:13 SPOTLIGHT 20
17/05/2021 10:03 SPOTLIGHT 19
10/05/2021 12:41 SPOTLIGHT 18
03/05/2021 09:57 SPOTLIGHT 17
25/04/2021 12:48 SPOTLIGHT 16
20/04/2021 07:42 SPOTLIGHT 15
13/04/2021 07:32 SPOTLIGHT 14
05/04/2021 20:24 SPOTLIGHT 13
29/03/2021 18:39 SPOTLIGHT 12
22/03/2021 14:30 SPOTLIGHT 11