SPOTLIGHT 20
24/05/2021 09:13
Welcome to the Spot Light. Check out the latest psychedelic, cosmic, prog, freakbeat, folk, kraut, experimental, jazz, drone, mystical, and avant-garde sounds! https://www.shinybeast.nl/blog
PSYCHEDELIC/PROGRESSIVE/FOLK
While Alien Mustangs' underground audience is increasingly spreading all over the world, Lost In Tyme becomes the third Greek label (Hands In Sand and Sound Effect Records being the other two) to house an Alien Mustangs piece of vinyl. Willingly or not, on all of their previous releases, the band's '60s influences were well-hidden, so this 7-inch vinyl single is a wonderful and unexpected surprise as it finds them re-exploring the magnificent glorious garage-o-psychedelic '60s in a remarkable technicolor psychedelically groovy way! Side 'A' is occupied by 'The World As I Am', a characteristic brimful groovylicious melody with guitar and organ rooted back to the sunny psychedelic L.A. scene of the mid-late '60s, though the band's attitude is very 13th Floor Elevator-ish! This is a song that The Electric Prunes would definitely love to have on their repertoire! On side 'B', Alien Mustangs are using a huge '60s colorful prism, creating 'Planet Bee', with killer organ sounding, reverberated swirling guitars and heady hazy vocals, high amounts of energy escapes in the air, helping them to build a time-tunnel from the late-'60s to the late-'80s, exploring the heaviness of Spacemen 3, the complexity of early Primal Scream and meeting with any of the numerous revival garage bands! Is this 7-incher proof that Alien Mustangs are modern contortionists, acting like active psychacrobats, twisting and bending their music into strange and unnatural positions and borders? Hell yeah, it is! (TimeLord Michalis)
RSD 2021. Acid Mothers Temple meets the founder Mani Neumeier of the legendary krautrock band Guru Guru. A fiery psychedelic collaboration recorded in the spirit of early Guru Guru. Recorded in Tokuzo (Japan) on march 14th 2019. Four long jams.
'A JOURNEY ON EARTH & BEYOND' - Double LP set by this collective of like-minded musicians led by Lionel Pezzano and based in Montreal, Canada, Bhopal's Flowers are inspired by both Eastern and Western influences in their soulful, sophisticated approach to songcraft. Inspired by the spiritual science of Anthroposophy, the band seeks truth through beauty, with each song blending modal and harmonic systems in a dancing constellation of esoteric concepts, powered by sitar and 12-string Rickenbacker guitar and driven by catchy melodies and intricate psychedelic arrangements. Limited to 200 copies.
Third full length from Greece's seminal prog-rockers! With Pablo Solari's unique artwork, they dig deeper to the oceans of a challenging music that merges rock, folk, classical and jazz.
This is an official re-release on vinyl under licensed courtesy of BMG Rights Management, UK, remastered from an original master copy out of the vaults of BMG. This album was originally released in 1975 on Pye Records' progressive imprint Dawn. Fruup were a 1970 progressive rock band, which originated in Belfast, Northern Ireland, but developed a fan base in Great Britain. They were relatively popular, particularly on the student scene and as a supporting act for such bands as Genesis, King Crimson and Queen. 'Modern Masquerades' was their 4th album. The sheer quality of the breezy musicianship is intoxicatingly attractive, from the solid foundation of drummer Martin Foye and his hyper-active bassist partner Peter Farrelly, whose voice is crushingly poignant as well, while new keyboardist John Mason decorates with shining precision, never too flashy but clearly always elegant (especially his electric piano work is really stunning). Guitarist Vince McCusker provides a raw, bluesier axe ride, closer perhaps to Martin Barre that fails not to please. Side one starts with 'Misty Morning Way' and 'Masquerading With Dawn', jaw droppers while enticing the listener with unexpected reflections of passionate prog. The highlight composition is certainly the 10 minute 'Gormenghast', a wholly appetizing slice of progressive rock with some Focus-like tempos, delicately weaving within the soundscapes provided by some stellar piano and sax, McCusker's fretboard glowing brightly, with incredible restraint. 'Gormenghast' being a full prog rock epic, with a hint of Canterbury about the edges and a direction not unlike that Camel would take in the later years. John Mason's more subtle keyboard style works to the album's advantage, allowing the other instrumentalists in the band a chance to take the spotlight. Side two: 'Mystery Night' sounds a bit strange, until an angelic voice of irrepressible beauty enters the fray, the piano dancing in apparent glee, all waltzing to a melody that shapes the soul. It gets heavier midway through, massive waves of drum-propelled mellotron blasts, while the equestrian bass gallops off into the sunset, laying down some bopping furrows that are shockingly good! The raspy organ solo then shines some bluesy boogie into the picture; the guitar chugging along "funky" style: This is 'fabulastic stuff'! 'Why' is a short interlude, a simply unselfish ballad, undyingly fragile with its sorrowful attestation of honest love with a heavenly voice from Farrelly, piano again providing the musical backbone. A lovely piece of music! Last title 'Sheba's Song' is an 8 minute closer that has some superior moments cruising though some scintillating drumming à la Michael Giles, a sweet guitar loop that breeds well with the resonant e-piano droplets, and a successful little jazz/romp mid-section. Fruupp is a great band if Gabriel's Genesis and Renaissance please you because Fruupp is the perfect mix of these two bands. In the vein of Renaissance are securely the plots between melody and soli, also rhythmics. In the vein of Genesis are securely the various rhythm changes, also with particular rhythmic figures, not conventional. So the final result is complex in rhythm and easy in sound electric symphonic prog. That is perfect still today! This album should be part of any serious prog rock/symphonic rock collection. The album comes with 8 (!) sided coversize insert sheet with full bandstory by formerly manager and author Paul Charles, with all lyrics, rare photos etc. Great stuff. Don't miss it!
"...Holy Troika, Diana (vocals), Ilya (organ) and Alexi (guitar) delicately blend a rhythm section evocative of The Doors with melodies reminiscent of Jefferson Airplane. Having recorded their album on vintage equipment from the USSR and beyond, their post modern aesthetic will sit comfortably with fans of Strawberry Alarm Clock, The Moody Blues and Love... They clearly enjoy weaving solos throughout non-traditional song structures, wheeling around like a Ray Manzarek curiosity. Eerie, spindly guitar sounds lie within the mix, voicing nostalgic progressions evocative of '60s West Coast psychedelia." ~Shindig!
Somewhere between cosmic space rock and progressive psychedelia are Polymoon, a band from Tampere, Finland. The basic elements of Polymoon are endless sonic reflections in the night sky, crushing fuzz guitars and undulating synthesizers. The backbone of the entity is a symbiosis of complex drum sequences and pulsating bass guitar. In the music of Polymoon, euphoria and melancholia converge to guide the listener to another level of being to embrace the monolith of psychedelia. Polymoon is an ensemble of the end times, a formless entity behind the clandestine curtain. Comes on yellow vinyl.
This is an official re-release on vinyl under licensed courtesy of BMG Rights Management, UK, remastered from an original master copy out of the vaults of BMG. The album was originally released in 1972 on Peg Records. 'Old Boot Wine', Spirogyra's second album showcased a harder-edged sound than their predominantly acoustic debut. It was adding Mark Francis on guitar and keyboard and having less Julian Cusack hence less violin play. Spirogyra's second effort is incredible! We are given the epitome of the Spirogyra sound, if not the all encompassing opus of all acid or psychedelic prog in general. Side one starts with 'Dangerous Dave', which rocks out nicely, with a brief melancholic bit in the middle and back again. 'Van Allen's Belt' is in a more sombre mood with acoustic guitar and piano. 'Runaway' is the most proggy piece on the album. It features 3 distinctive movements, some organ and lovely piano playing, vocals from Mark Francis and the beautiful Barbara Gaskin. Starting out uptempo, but finishing in a dreamy way with Gaskin's gorgeous voice - a well performed proggy-folk epic in under 5 minutes! 'Grandad' is again a sombre piece of fragile beauty featuring a delicate Cockerham with his acoustic guitar, backed by Cusack's string arrangement. 'Wings Of Thunder' is a pleasant rocker. Side two opens up with the only long number, 'World's Eyes', of which the first half of the song recalls a bit of the eccentricities of their debut, 'St. Radigunds', containing a brief moment of manic energy, hyperactive bass from Borrill, some semi-tone riffs and strange vocals. 'Don't Let It Get you' is a nice ballad. 'Disraeli's Problem' features more dreamy vocals from Gaskin, with mellow sections to enjoy immensely. Last track, 'A Canterbury Tale', has a sombre first half which is beautiful, finishing with a multi-tracked Gaskin vocal backing with Cockerham singing over the top. An amazing album, as is to be expected from Spirogyra, the masters of the acid folk scene. This is also one NOT to be missed. The album comes with 4-sided cover-sized insert sheet with band story, photos and all lyrics.
'CV Sessions' are a combination of the time of the coronavirus and the equipment Sula used in these times, which is analog gear connected and modulated with CV cables (control voltage). Double meaning. Sula used a bunch of small analog synthesizers, drummachines, sequencers, a polyphonic synth, a string ensemble, a casio SK 1 & SK 60, Stylophone x1, guitars, a bass, Mellotron and whatever. Recorded simply and never spending much time on it. The first track was recorded late March 2020, others followed until December. All music composed, performed, recorded and mixed by Sula Bassana (Dave Schmidt) in his bedroom. Mastered by Eroc. Coverdesign by Sula. Limited to 400 copies on voodoo vinyl, includes the track 'What is Reality' which is missing on the CD.
Recorded live at Ancienne Belgique, Brussels/Belgium on February 29th, 2020. Limited to 500 copies.
GARAGE/BEAT/SURF/ROCK'N'ROLL
Two men and a woman presenting some noisy garage punk, recorded on a vintage tape recorder. Five short tracks on one 7".
From the rugged and powerful garage punk of their early years, back in '87, The Mourning After have totted up a vast selection with their sights always firmly set on the music of the sixties. They are much more than a retro or revival band. Oh yes, so much more! They are, quite simply, a band with a personality of their own. You'll understand what I mean once you listen to these two songs - two soothin pills for the soul, and the feet! The impactful and efficient 'Just Walk Away': powerful rhythm with a groovy reminiscence and the weight of The Prisoners. Hints of R&B and rhythm changes charged with energy and determination complete this gunshot of a tune! Bravo! On the B side you'll find the hard melody of 'Sweet Scotchy Rose'. Wonderful tempo. A compact and seamless delight. Like a rose: beautiful with thorns. High carat folky garage. (Juanito Wau)
For the first time on vinyl! Reissue of this Bellfuries album, which was originally released in 2008 on CD only. Includes an insert with song lyrics.
The Feedbacks' career has already exceeded a quarter of a century and they express such magnitude when it comes to compositional quality, intensity and emotion. Their second album 'Speedway' from 1999 sees a well-deserved reissued on vinyl for the very first time, as it has been released on CD only back then.
Femur is a garage-punk combo formed in Toledo. Beside their love for horror movies come influences from rock'n'roll and punk groups like The Cramps, Devil Dogs, The Flakes, the English The Headcoats or the Australian The Crusaders among many other references. Played at a fast pace and completed by screaming vocals in Spanish.
Three guitars, one drum set, three voices, a daredevil ride into the Kingdom of Wild Animals, Recorded in Nottingham by Tony "Doggen" Foster (Spiritualized) including their gorgeous evergreen 'Learn To Lose' and Janis Joplin's 'Ain't Got A Worry'.
POP/ROCK/WAVE/NOISE
The atmospheric alt dark debut album 'Sun' by the Greek band Adam. For fans of Alice In Chains, Queens Of The Stone Age, Deftones, Nine Inch Nails, Tool.
PUNK/HARDCORE
Two more recordings from 1978 fully remastered from original source, this is the follow-up to the previous '78 recordings 'I Wanna Be An Ordinary' and 'Get Me Up' that Love Child released (Now Sold Out). Hi paced energy new wave showing that UK '77 punk influence moving forward into the next year. Great snotty vocals and superb thrashy guitar and bass in front of some amazing drums. This will fly as did the previous 7".
A second pressing of this album comes on turquoise vinyl, limited to 500 copies.
Kovaa Rasvaa release their 'Tasaluvulla Tulevaisuuteen' EP. The seven songs recorded by Ville Valavuo (Hard Action, Towards Destruction) is an expected continuation of their previous EP. Due to the pandemic situation in the world, Kovaa Rasvaa could not perform the songs in front of any live audience. But on the other hand, this well-deserved break made it possible to compose fresh material.
INDUSTRIAL/EXPERIMENTAL/NOISE/NEOFOLK/GOTHIC
Mortifero is a spiritual acoustic band from Groningen, The Netherlands, formed in 2020. Their style is dark folk in the vein of King Dude, Lana Del Rey, Death In June and a plethora of other country and neofolk bands. Their sound has been described as mesmerizing with female vocals, acoustic guitars and bass, compelling and atmospheric. The lyrical themes are inspired by subjects such as death, murder, occultism, witchcraft and folklore. The group was founded by vocalist, lyricist and principal songwriter Mortifero. She is also the live bassist for Asagraum and Standvast and has done guest vocals for bands such as Grá, Uuntar and Elfsgedroch. Nortfalke (bass/percussion) and Neer (guitar) were asked to join the group for live shows but are also currently writing songs for a full-length album together with Mortifero. Limited to 333 copies.
RSD 2021. A collaboration between Richard Pinhas and his son Duncan Pinhas, to celebrate Richard's 50-year career as musician and his 70th birthday.
... FROM TWENTY THREE YEARS AFTER ESCHATON' - Collaboration album by cult Italian industrial act Sigillum S and Adriano Vincenti's experimental project Macelleria Mobile di Mezzanotte.
METAL/STONER/HARDROCK
Split 7" by these 2 atmospheric black metal bands. Limited to 546 copies.
'The Palingenesis' is the 2021 EP by German blackened doom band Morast. Written in pandemic isolation the two new songs reflect the claustrophobic atmosphere of its time and are a resumption of the band's fierce and obscure path to complete and total darkness. It's the first release with new vocalist Z., formerly known for his work with Nagelfar, Endstille and Graupel.
The first-ever vinyl edition of Reverend Bizarre's 2005 single 'Slave Of Satan'. One-sided 12" on black vinyl and including insert.
The first-ever vinyl edition of Reverend Bizarre's 2007 single 'Teutonic Witch'. One-sided 12" on black vinyl including insert.
Ritualistic black magic metal from Poland. This is one of the darkest, most disturbing and flat out 'evil' recordings ever. Although it at times sounds improvised, it is not. This is meticulously planned, but a big ingredient is subconsciously becoming a vessel during the process for something otherworldly, and this radiates exactly that. This seems like something the band themselves felt was something uneasy, dark and possessed, and the result is truly fascinating; extreme black magic. This is clearly not for everyone, but those of the unlight will thrive in this absolute lunacy. Enjoyed best intoxicated at high volume.
Four songs in the by now infamous Deus Mortem vein; world class musicianship, powerful production and masterful songwriting makes this nothing short but another stellar release by this Polish horde. 110% relentless, hateful, yet elegant savagery, you won't be disappointed. Written and recorded partially at the same time as the critically acclaimed 'Kosmocide', 'The Fiery Blood' continues where they left off. Epic, dynamic, chaotic, crushing and dark; few, if any, do this style of black metal better.
A masterpiece of Icelandic black metal.
'VII - Kenoma' is the 4th full-length release of the German black metal band Fyrnask. While remaining committed to its foundation of second wave black metal, the aural experience of 'VII - Kenoma' is also deeply rooted in ritual ambient and drone as well as world music by exploring synthesized sounds, neoclassical and traditional instrumentation and vocalization.
With 'III: Shaped By The Unlight' Goath stick to everything they believe in and that is playing aggressive death/black metal its purest form. Raw, very powerful and evil - and this time even darker than ever! Most of the material was recorded while playing live in the studio, just like on their previous albums. No clicktracks and not thousands of overdubs! This is what makes 'III: Shaped By The Unlight' so brutal. The energy that Goath is spreading here punches the listener directly into the face.
Repress! Early '70s underground hard rock recordings from this Scottish group who were stomping around the UK with the likes of Black Sabbath, Hackensack, Pink Fairies, Juicy Lucy and others from the time, but never released a proper album. In the beginning, Iron Claw probably became the world's first Black Sabbath tribute band, as they incorporated the entire first Black Sabbath LP and single into their set! This collection of sixteen original studio tracks documents their existence from 1970 thru 1974 and features extensive liner notes, lyrics and photos, including a poster and insert! For fans of Tear Gas, Leaf Hound, Jerusalem, Ancient Grease, Toad, Incredible Hog, Elias Hulk!
Third album by this Dutch language black metal band. TRACKS: 1. Verkeerde Preek 08:05 2. Synode van SATAN 07:52 3. Na de Gestoorde Uitvaart 07:54 4. Duivelsindrijving 11:00
Second album by this black metal duo from Germany and Austria.
Vargavinter's only album, originally released in 1996 on Invasion Records now out on vinyl for the first time ever. Expect nothing but storming Swedish black metal full of melodies and passion. Comes with totally new artwork by Christine Linde. Original sound. Limited to 500 copies. For fans of Dissection, Sacramentum, Dawn, Vinterland, Unanimated, Allegiance.
Stoner/hard rock band from France.
Post/black metal from Finland.
Hadal is a dark/doom metal band from Italy.
Croatian sludge/doom/stoner!
Italian metal/punk band for fans of Motörhead, Discharge, Entombed and The Exploited.
Danish sludge/doom/stoner metal.
'The Thule Grimoires' are The Ruins Of Beverast's 6th spawn in full length and continue the sonorous wandering across anecumenical spheres that form up and embattle for the ever raging war against poisonous and verminous trespassers of human origin. The seven works evolve around discarnate, spiritful protagonists that join the brave and inexorable powers of nature against their foe. These sceneries are rooted within the familiar TROBesque experience, grim and low-bottomed monolithic tone, enriched with morbid melodic facets and surreal soundscapes.
Syning represents these times perfectly in their all-consuming bleakness and despair. Haunting and hopeless black metal performed by Cernunnus (Manii/Manes), Levninger (Knokkelklang) and V.Einride (Whoredom Rife), and needless to say, this is a Terratur Possessions related project that came together naturally through each others respective projects previously released by this label.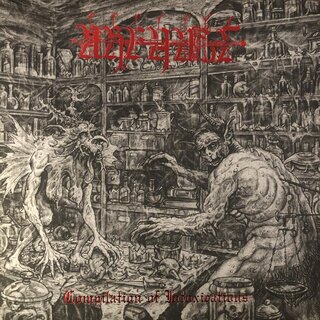 Compilation of tracks taken from 7" and split releases.
SOUNDTRACKS/LOUNGE/CULT ETC
The original soundtrack by Neil Chaney to the British supernatural horror film 'Aura' (aka The Exorcism Of Karen Walker). From the first notes, the incredibly evocative compositions feature huge swathes of cavernous dark ambient, with unsettling dark synths in the vein of the legendary '70s Italian Giallo horror. Quieter, and indeed sinister moments, are evoked by emotive strings, synths and piano, adding pathos and a melancholy atmosphere to the disturbing score. 'Aura': A couple discover Kirlian Photography apparatus in their new house. Intrigued by the concept of photographing peoples' auras they unwittingly release an ancient evil. Only the local psychic can help and she knows far more than she reveals. 'Aura' stars: Rula Lenska (a darling of British TV), Shane Taylor (Band Of Brothers), Janine Nerissa (Sandow). Composing film soundtracks since 2009, Neil Chaney was also the creative mind behind the cinematic dark ambient/fortean electronics act Satori (2007-2008 with Justin Mitchell of Cold Spring), releasing their acclaimed album 'Kanashibari', and the EP 'Contemptus Mundi' (feat. Magus Peter H. Gilmore, High Priest of the Church Of Satan). He was also the creator of early '90s industrial act Pessary. Presented in a matt digipak.
Blog
Previous editions:
02/08/2021 18:25 SPOTLIGHT 30
26/07/2021 10:38 SPOTLIGHT 29
16/07/2021 15:10 SPOTLIGHT 28
12/07/2021 10:09 SPOTLIGHT 27
05/07/2021 10:14 SPOTLIGHT 26
28/06/2021 08:24 SPOTLIGHT 25
22/06/2021 08:18 SPOTLIGHT 24
14/06/2021 14:05 SPOTLIGHT 23
07/06/2021 15:42 SPOTLIGHT 22
01/06/2021 06:36 SPOTLIGHT 21
17/05/2021 10:03 SPOTLIGHT 19
10/05/2021 12:41 SPOTLIGHT 18
03/05/2021 09:57 SPOTLIGHT 17
25/04/2021 12:48 SPOTLIGHT 16
20/04/2021 07:42 SPOTLIGHT 15
13/04/2021 07:32 SPOTLIGHT 14
05/04/2021 20:24 SPOTLIGHT 13
29/03/2021 18:39 SPOTLIGHT 12
22/03/2021 14:30 SPOTLIGHT 11
15/03/2021 14:13 SPOTLIGHT 10